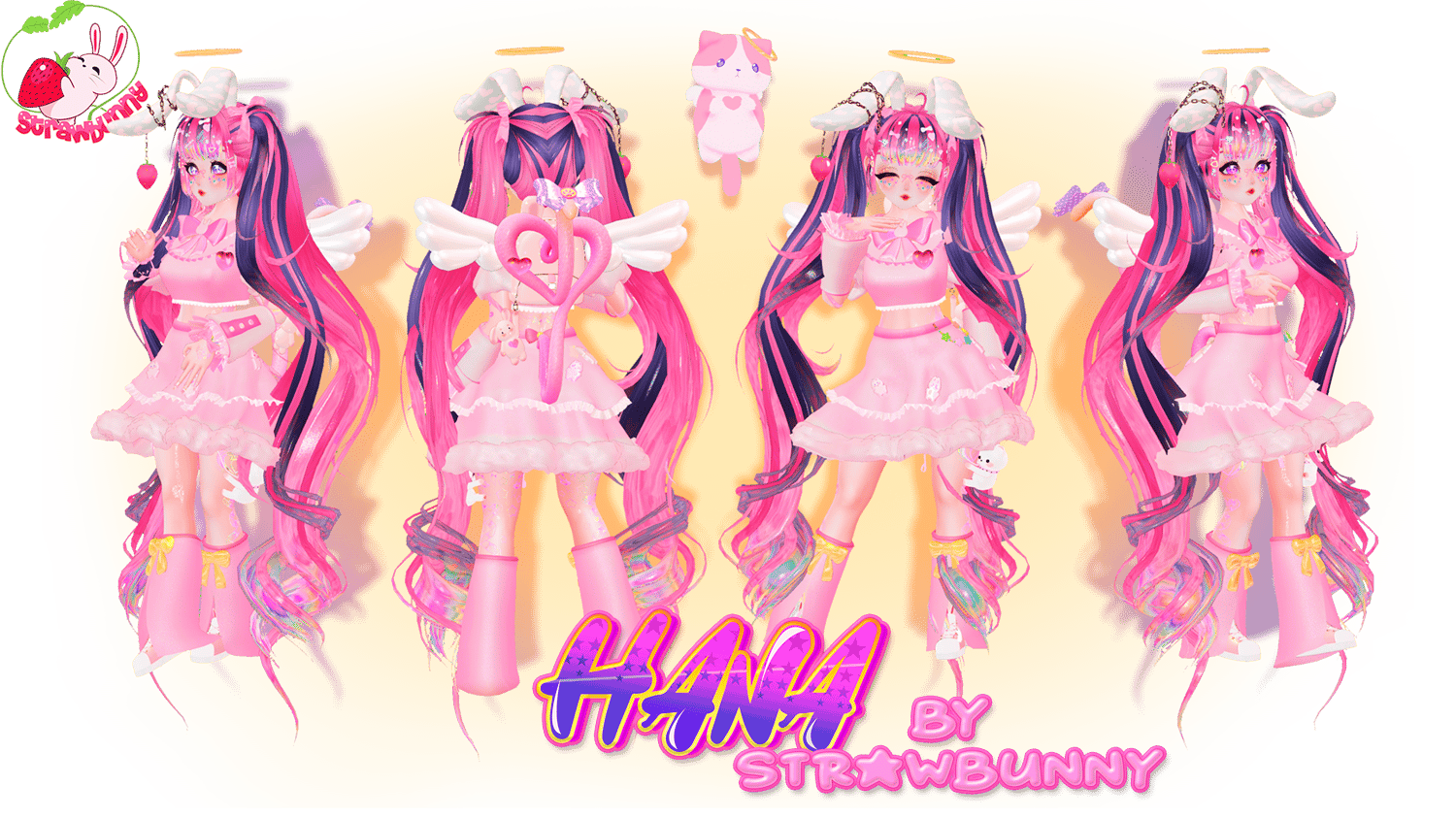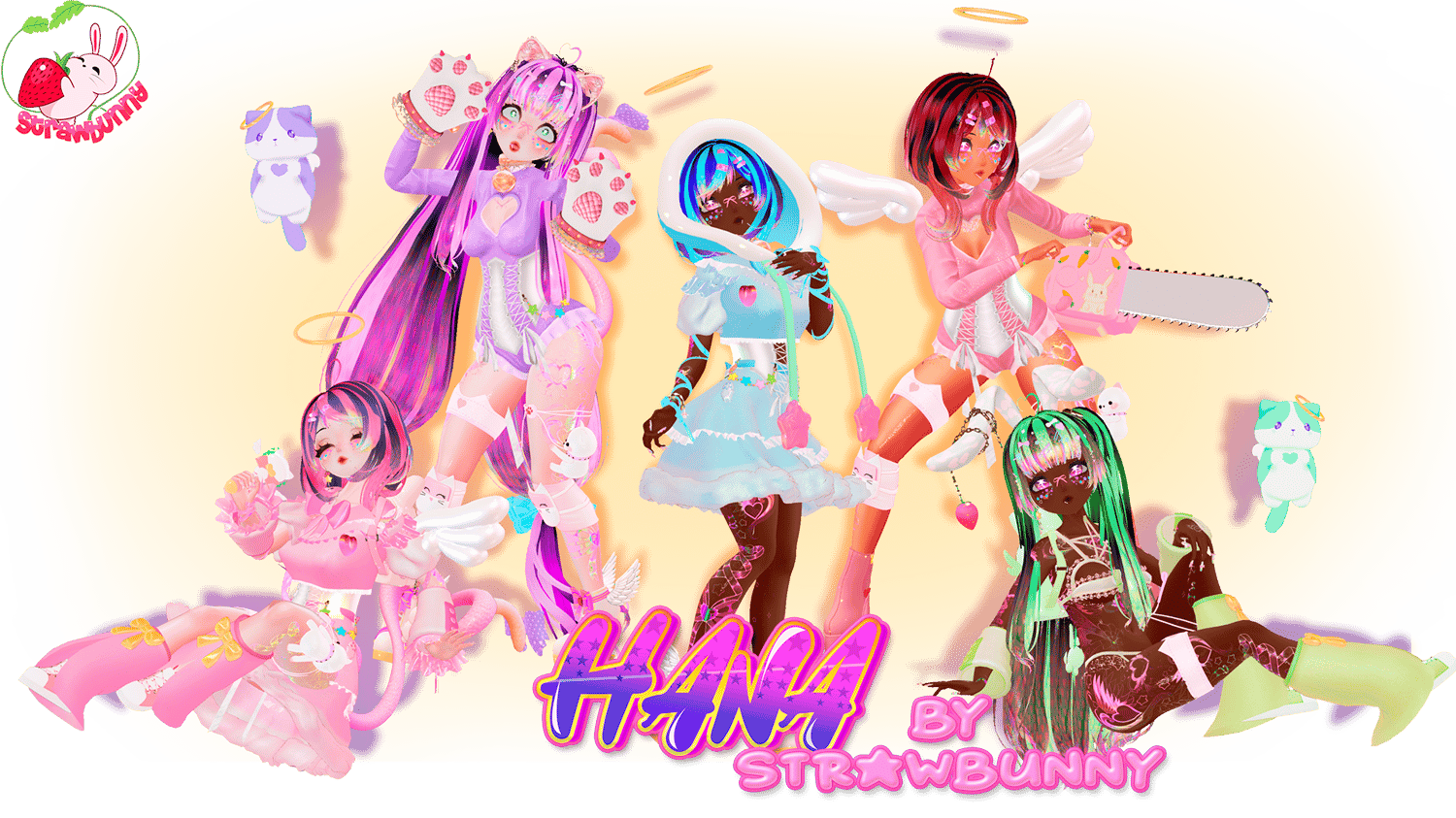 ˗ˏˋ ꒰ Hana ꒱ ˎˊ˗ 《PC & QUEST》
This avatar is considered as finished product, if you meet any issue please open a ticket on my server!
───── ⋆⋅☆⋅⋆ ────
───── ⋆⋅☆⋅⋆ ────
Don't know how to upload avatars? I do paid uploads please join my server for more info!
Unity work by Rune
Art by Coco
---
☀| SDK 3.0
☀| 67 TOGGLES + GOGO LOCO.
☀| Toggles For Clothes:
—» Idol Outfit, Bodysuit, Bikini + Corset + Leg warmers, + Arm warmers.
☀| Toggles For Extras:
—» Star Hood, Bunny ears, Collar, Earrings, Halo, Lollipop, Face stitches, Face bandages, Kitty garter, Knee pads, Bracelet, Angel wings, Backpack, Arm ribbons, Kandi chain, etc.
—» Fancy nails, Normal nails, Gloves.
☀| Animal.
—» Bunny ears.
—» Cat ears
—» Cat Tail
—» Cat paws
☀| Hue customization:
—» Eyes.
—» Hair (both sides) Saturation, Brightness.
—» Clothes.
—» Skin tones.
—» Michi (follower) hue.
☀| Skin tones.
—» Pale, warm and dark.
☀| Hair options.
—» Long pigtails, Left pigtail, Right pigtail, Long hair, Bob cut, Bell low pigtails, Bow hair.
☀| Fun Menu
—» Magical Girl transformation.
—» Follower controller.
—» Beating heart.
—» Music Trails.
—» Microphone (With summoning animation!)
—» Chainsaw (With summoning animation! + Blood physbone reaction)
☀| GOGO Locomotion for desktop and halfbody users
---
---
UPLOAD ORDER
✧| Creator Companion LATEST. (3.2.1)
✧| Poiyomi Toon 7.3.50 To 8.1.165 (TOON INCLUDED ON THE DOWNLOAD (NOT INSIDE THE PACKAGE))
✧| Liltoon. (INCLUDED ON THE DOWNLOAD (NOT INSIDE THE PACKAGE))
✧| Unlit Shader. (INCLUDED ON THE DOWNLOAD (NOT INSIDE THE PACKAGE))
✧| HANA unity Package.
If you're having problems uploading please open a ticket my DISCORD SERVER
We also do paid uploads! check all info in server!
---
---
QUEST VERSION
IN GAME PICTURES
Quest conversion by Shace#7016
Not for Quest
Freckles, microphone, chainsaw, light sticks, knee pads, cat paws, michi, face bandage, hair clips, warmers 2 (the strawberry ones), magical shoes.
Instructions For Quest Upload:
- Upload the Pc version of the avatar as you usually would (check top for order).
- Open a NEW PROJECT for your quest version
- Import latest sdk or use CC.
- Import in "!Hana Quest", nothing else is needed to import
- If you are not in android build, go to build > build settings and switch to Android in Unity
- Log in to SDK and go to "Content Manager"
- Find your uploaded PC version of the avatar and copy ID
- Paste your ID in "Blueprint ID" if there is an ID attatched, detatch it first to paste, the re-attach!
- Upload!
---
---
Main outfit by Bunisu (COMISSIONED) ✩ Chainsaw, Bracelet, Second hairpins and bandaid by Seraphine Rune (COMISSIONED) ✩ Kitty Mic by Snowie (COMISSIONED) ✩ Head ✩ Chainsaw tex + little tex comissions by Numbaaat ✩ Eye textures ✩ ✩ Face textures by Birdy and edited by me✩ Body ✩ ✩ Hair 1 ✩ Hair 2 ✩ Hair 3 + 4 + 5 + bangs ✩ Side Pigtails ✩ Cat Paws ✩ Backpack, Garter, Nails, Arm ribbons, Kneepads (patreon) ✩ Warmers ✩ Skirt ✩ Hairpins ✩ Menu Icons ✩ Trails ✩ Beating Heart ✩ Follower ✩ Body Tex ✩ Leg Warmers ✩ Bikini ✩ Earrings ✩ Heels ✩ Collar ✩ Wings ✩ Hood ✩ ✩ Matcaps ✩ Tail ✩ Halo ✩ Boots ✩ Freckles ✩ AV3Creator ✩ Lighsticks ✩Transformation particle inspired by Naii ✩ Toggle showcase recorded by Pol and edited by Korvox#1191 ✩ Stats renders by Lil miss pasta ✩
If I did not leave the appropriate credits please let me know ♡
Special thanks to everyone who helped me making this release possible, love you guys to the moon and back.
---
---
● VRC CREATOR COMPANION (for pc) AND LEGACY SDK (for quest): https://vrchat.com/home/download
● Poiyomi: https://www.patreon.com/poiyomi (TOON INCLUDED ON THE DOWNLOAD (NOT INSIDE THE PACKAGE))
● LilToon Shader (INCLUDED ON THE DOWNLOAD (NOT INSIDE THE PACKAGE))
● Unlit shader (INCLUDED ON THE DOWNLOAD (NOT INSIDE THE PACKAGE))
● IK STUB (INCLUDED ON THE DOWNLOAD (NOT INSIDE THE PACKAGE))
---
⚠️The only way to get this avatar is to buy it here and my payhip⚠️
If you find it on some illegal page or pass it to you by a "friend" the fault will be yours and YOU will be blacklisted and it is possible that legal action will be taken AGAINST YOU.
Please make sure you have some knowledge on unity.
❖ Do NOT redistribute, resell, price split, share or trade my packages, if you do and I found out, I'll take legal actions.
❖ Do NOT make any of models public under no circumstances.
❖ You CAN NOT claim my avatars as your own. 
❖ If using for streaming or any kind of content creations feel free to do it just credit me! (and of course have the personal license bought)
❖ PLEASE DON'T GATEKEEP MY AVATARS.
❖ If you're buying my packages as a gift, please add their info instead. (If its a bundle, put both)
❖ You can edit my avatars as you wish just leave the proper credit if posted on Instagram, Tiktok or any platform.
❖ My avatars are not intended to be used by minors only SFW avis.
❖ I am not responsible for damages caused by external people.
❖ Do not use to give hate speech, politically or religiously while using my work.
Chargebacks lead to an instant ban and blacklist on my server and on the server of my fellow creators. And I will also contact Gumroad/Paypal and I will provide the corresponding information if necessary.
Failure to follow any of the rules above will result in ban and blacklist.
© Copyright Strawbunny. All Right Reserved. Copyright Protected with www.ProtectMyWork.com AND DMCA.COM
AVATAR IS PROTECTED BY COPYRIGHT LAW WITH LEGAL DOCUMENTATION
I WILL NOT HESISTATE TO TAKE DOWN MY WORK FROM ANY SHADY WEBSITE/DISCORD SV