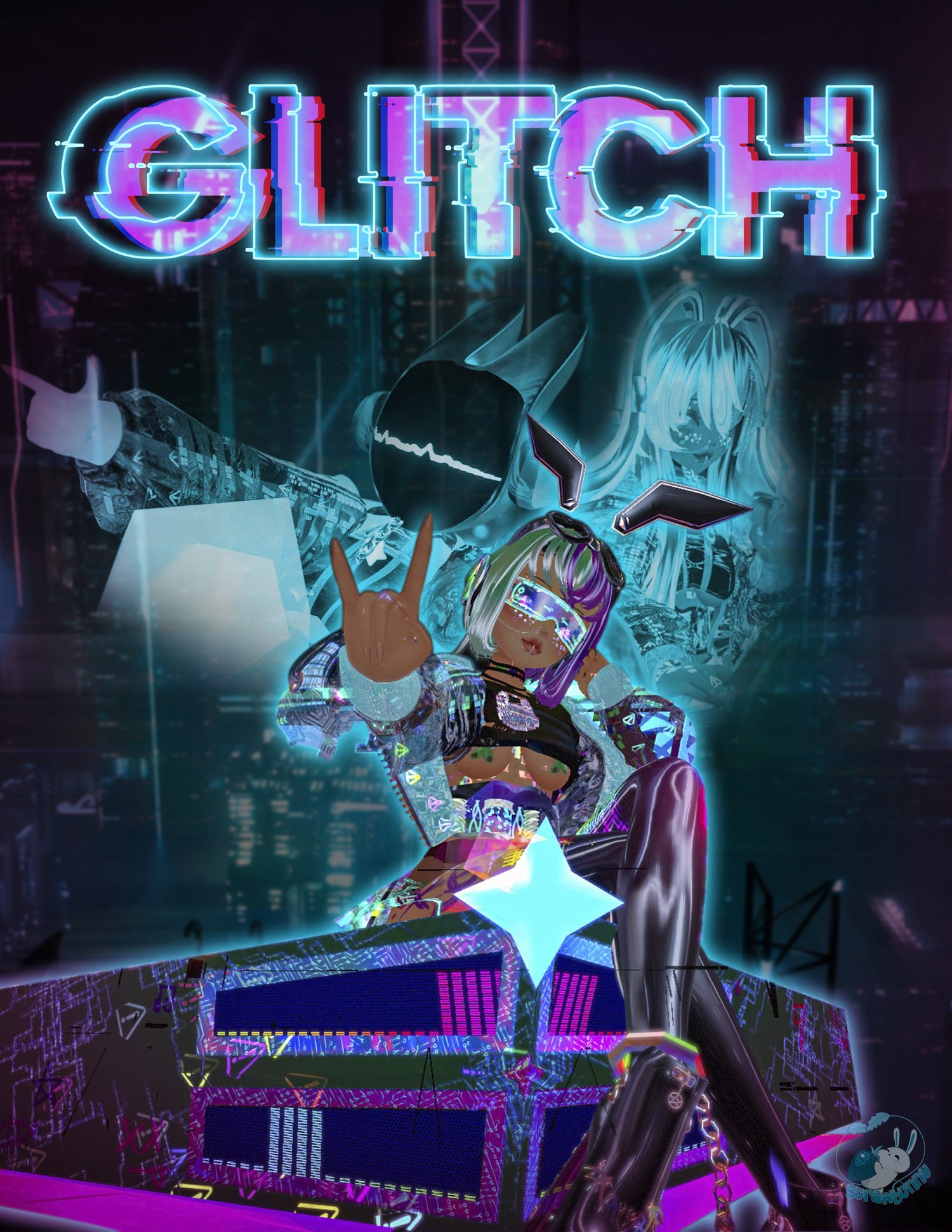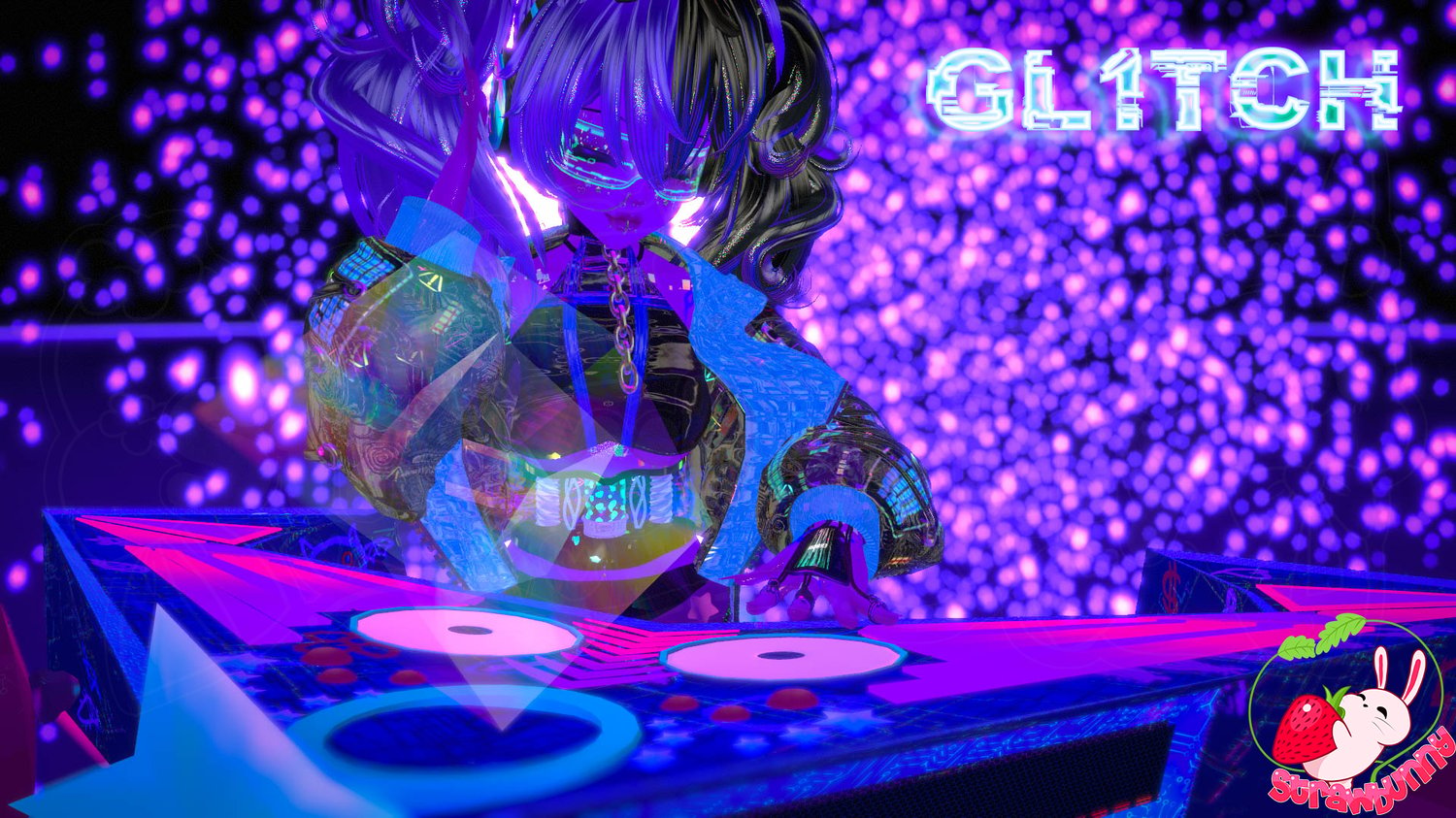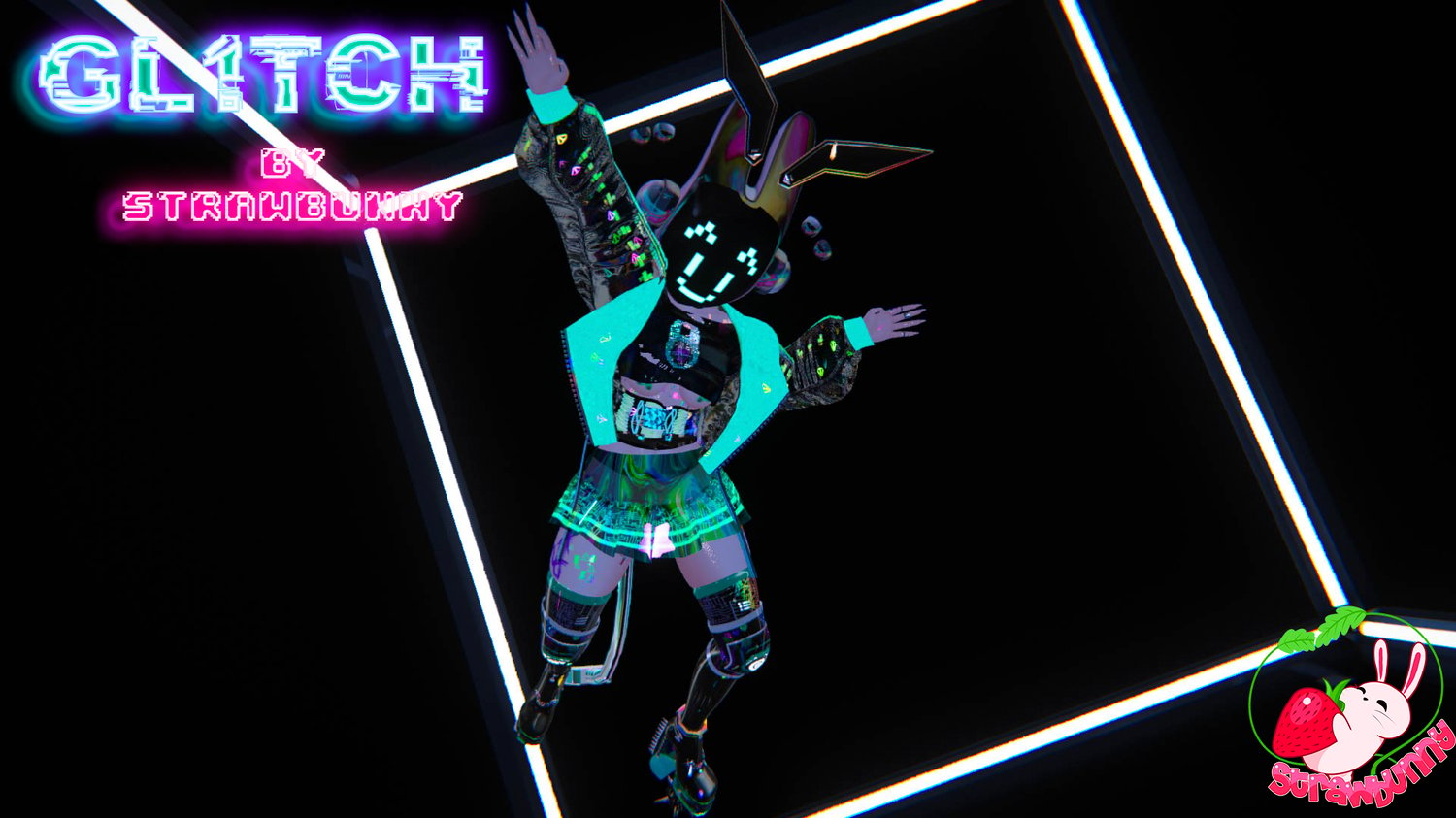 ˗ˏˋ ꒰GL1TCH꒱ ˎˊ˗ 《PC & QUEST & OPTI》♡
This avatar is considered as finished product, if you meet any issue please open a ticket on my server!
───── ⋆⋅☆⋅⋆ ────
───── ⋆⋅☆⋅⋆ ─────
Don't know how to upload avatars? I do paid uploads please join my server for more info!
Unity work by Rune
ART BY bugzgore
---
☀| SDK 3.0
☀| 94 TOGGLES + GOGO LOCO + DPS
☀| Multiple Physbones Interactions.
—» Headpat, nose boop, kiss, high five, slap, battery (check your torso, the batteries move up and down), choke.
☀| Toggles For Clothes:
—» Jacket, Shirt, Top, Bodysuit, Pants, Skirt, Pasties, Panties, Kneepads, Stockings, Boots, Arm fishnets.
☀| Toggles For Extras:
—» Headphones, Cyber Bunny Ears (THEY FLOAT!), Spiky ankle chain, Backpack, USB Tail, AUX choker, Goggles (you can toggle them up and down), AUX earrings, AUX Glove, Spiky Bracelet, Holo Visor, Glasses, Floppy bunny ears (you can grab them!)
☀| Piercings.
—» Lips, Nose, Belly, Nipples, Chest.
☀| Hue customization:
—» Eyes, Hair (both sides) Saturation, Brightness.
—» Clothes, Skin tones, Eyes.
—» Dj table. (Main and cube)
—» Alpha. (transparency of jacket and skirt)
—» Emission Strenght.
☀| AudioLink.
—» Toggle on and off.
—» Emission Strenght.
☀| Skin tones.
—» Pale, warm and dark.
☀| Hair options.
—» Short, Twin Pigtails, Ponytail, Long Braids, Small Braids.
☀| Lava shader on torso!
☀| DJ MENU
—» DJ Table: Works with audio link, works with world constraints (Please check showcase for reference)
*Spining cube react to audiolink
*Bun speakers react to audiolink
—» DJ Helmet:
*Custom expresions. (you can lock them!)
*Synthwave Works with audio link
*Dj ponytail! (DOESN'T WORK WITH SCALLING)
☀| Fun menu:
—» Beep Beep follower, you can control him! (Please check showcase for reference)
☀| GOGO Locomotion for desktop and halfbody users
☀| Size slider! You can change you size in game.
☀| DPS ready.
---
UPLOAD ORDER
✧| Creator Companion 3.1.11 or 3.1.12
✧| Audiolink 3.1
✧| Poiyomi pro 7.3 and 8.2.0.1
✧| DPS (OPTIONAL)
✧| GL1TCH unity Package
If you're having problems uploading please open a ticket my DISCORD SERVER
We also do paid uploads! check all info in server!
---
QUEST VERSION
Quest conversion by Noelia.vr
Not for Quest
Chain ball on boots, visor, arm fishnets, bodysuit, bobcut, braids, pants, floppy bun ears, dj ponytail, aux hand and choker, backpack.
On Quest the DJ table can't be dropped because Quest can't use world constraints, but if you lock your body position with GoGoLoco the DJ table will stay in one place and won't move when you turn your head
Instructions For Quest Upload:
- Upload the Pc version of the avatar as you usually would (check top for order)
- Open a NEW PROJECT for your quest version
- Import latest sdk.
- Import in "!GL1TCH Quest", nothing else is needed to import
- If you are not in android build, go to build > build settings and switch to Android in Unity
- Log in to SDK and go to "Content Manager"
- Find your uploaded PC version of the avatar and copy ID
- Paste your ID in "Blueprint ID" if there is an ID attatched, detatch it first to paste, the re-attach!
- Upload!
---
---
Head ✩ Eye textures ✩ Eye flipbooks by ViceFox#6035 ✩ Body ✩ Body Tex (base) ✩ Jacket + top+ shirt ✩ Helmet by Ritual#6666 <3 (COMISSIONED)✩ Unity work + DJ booth (Speakers, Cube, Ponytail) + Guts by SeraphimRune#0001 <3 (COMISSIONED) ✩ Gyaru Pigtails ✩ Braids + Buns + Long hair ✩ Bob cut ✩ ✩ Tail ✩ Rings ✩ Pants ✩ Skirt ✩ Goggles ✩ Little Robot ✩ Cyber Bunny ears ✩ Tail ✩ Visor ✩ Headphones ✩ Matcaps ✩ AUX set ✩ Boots ✩ Nose boop and Headpat particles ✩ Freckles ✩ Helmet and ponytail and early concept by Lil Miss Pasta#1998 ✩ Showcase by jamie#5452 ✩ Toggle showcase edit by Korvox#1191
If I did not leave the appropriate credits please let me know ♡
Special thanks to my children Pol and Numbaaat, love you guys to the moon and back.
---
---
● VRC CREATOR COMPANION (for pc) AND LEGACY SDK (for quest): https://vrchat.com/home/download
● Poiyomi: https://www.patreon.com/poiyomi (USED PRO 7.3 and 8.2.0.1)
● DPS: https://raliv.gumroad.com/l/lwthuB?layout=profile
● AUDIOLINK (3.1) : https://github.com/llealloo/vrc-udon-audio-link/releases
---
⚠️The only way to get this avatar is to buy it here and my payhip⚠️
If you find it on some illegal page or pass it to you by a "friend" the fault will be yours and YOU will be blacklisted and it is possible that legal action will be taken AGAINST YOU.
Please make sure you have some knowledge on unity.
❖ Do NOT redistribute, resell, price split, share or trade my packages, if you do and I found out, I'll take legal actions.
❖ Do NOT make any of models public under no circumstances.
❖ You CAN NOT claim my avatars as your own. 
❖ If using for streaming or any kind of content creations feel free to do it just credit me!
❖ PLEASE DON'T GATEKEEP MY AVATARS.
❖ If you're buying my packages as a gift, please add their info instead. (If its a bundle, put both)
❖ You can edit my avatars as you wish just leave the proper credit if posted on Instagram, Tiktok or any platform.
❖ My avatars are not intended to be used by minors only SFW avis.
❖ I am not responsible for damages caused by external people.
❖ Do not use to give hate speech, politically or religiously while using my work.
Chargebacks lead to an instant ban and blacklist on my server and on the server of my fellow creators. And I will also contact Gumroad/Paypal and I will provide the corresponding information if necessary.
Failure to follow any of the rules above will result in ban and blacklist.
© Copyright Strawbunny. All Right Reserved. Copyright Protected with www.ProtectMyWork.com AND DMCA.COM
AVATAR IS PROTECTED BY COPYRIGHT LAW WITH LEGAL DOCUMENTATION
I WILL NOT HESISTATE TO TAKE DOWN MY WORK FROM ANY SHADY WEBSITE/DISCORD SV